Who is Info-Design Online?

ffective web sites focus on helping the visitor locate the information they seek. With over ten years' experience, Info-Design Online builds web sites that are quick to load, easy to find and simple to use.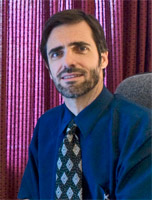 Through all the increases in Internet connection speeds and personal computer power, one thing remains unchanged - people dislike waiting. Sites that don't appear on screen almost instantly become a missed opportunity. A fast-loading web site is always at an advantage.
Having your site found through searches is important. Good page design, simple navigational structure, together with an balanced understanding of how search engines operate result in sites that rank well in search results.
Every site is new to the first-time visitor! Employing simple, familiar layouts and navigation schemes - without undue complexity or clutter - makes it easier for the first-time visitor to feel welcomed. Consistent, trust-building sites also have an advantage.
Managed by Graeme Morris, Info-Design Online was established in 1998 and is as a provider of professional web & online systems development services in South East Queensland's provincial city of Toowoomba.
Graeme's University Degree in Electrical Engineering, first-hand exprience of the evolution of the web through two decades, together with experience in online programming and information architecture, well places him to assist local business ultilise the Internet.
Being well aware that technical prowess is but one ingredient in effective marketing, Info-Design Online takes a holistic approach to our work, avoiding the trap of allowing individual technologies to dominate. The fundamentals of clear communication, good design and effective web site navigation remain paramount to an effective investment into online medium.
The focus of Info-Design Online is the professional development and maintenance of commercial web sites. Ranging from a few pages to hundreds of pages, our web sites are well-structured, having effective navigation and a consistent 'look and feel' which well reflects each client's individual corporate image. Take a look over our Project Portfolio »
With a desire to employ a measured use of emerging technologies to support compelling content, powerful presentation, and easy-to-use navigation, Info-Design Online is enabling business to flourish in today's online media.
Graeme is a long-term member of, and supports, the Toowoomba Business Networkers - a business networking organisation whose aim is to generate increased business through the generations of quality business leads.
Info-Design Online TOOWOOMBA AUSTRALIA
Phone: +61 7 4635 0466 Fax: +61 7 4635 0155