The Marshalls in Japan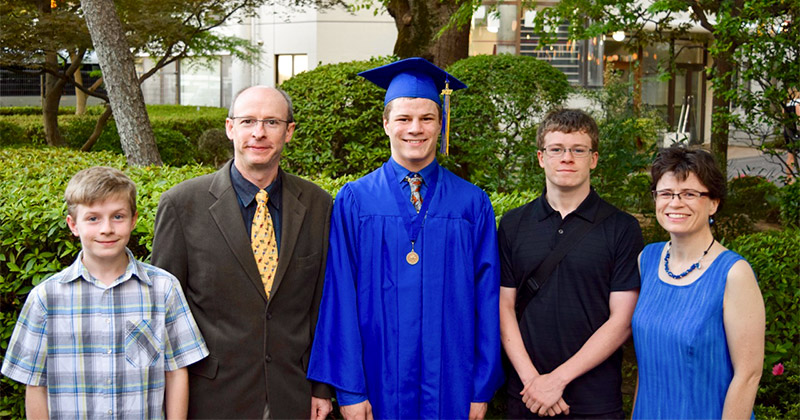 The Marshall family: Jamie, David, Callum, Douglas & Wendy
Recent editions of Marshalls Musing
June-July 2022 Newsletter (1.1 MB PDF)
May 2022 Newsletter (800 KB PDF)
April 2022 Newsletter (460 KB PDF)
Our Blog & Facebook
Check out:
Meeting the Marshalls
We both grew up in rural Queensland. David committed his life to the Lord as a teenager in the context of a church youth group. He left rural life to go to Brisbane to study maths at university and graduated as a High School teacher. He then taught maths for seven years.
Wendy gives thanks for her Christian upbringing. By the time the question as to whether or not she was a Christian occurred to her, she was already believing. She left Toowoomba after high school to study Occupational Therapy in Brisbane. After graduation she used her professional skills in a variety of positions.
In 1993 we met on an OMF study tour to Indonesia, though we didn't become a couple until 1996. Not long after we married we went to International Outlook (Queensland annual mission event) and were challenged as to whether we had any compelling reasons to stay in Australia - especially given the need overseas.
We came to Japan with OMF in December 2000. Our first four years included training in Japanese language and culture, and time spent in a church planting team. Since 2005 David has served at the Christian Academy in Japan, Tokyo, a school for missionary children. He teaches maths and science to high schoolers and since 2017 has served in the leadership position of Director of Teaching and Learning.
Wendy juggles a number of roles, but her main roles are:
Managing Editor of a magazine by and for missionaries in Japan called Japan Harvest ›
Manager and editor of the OMF Japan blog › and OMF Japan's social media pages.
Providing a stable home base for our family.
She also writes articles, edits other publications, and writes almost daily on her blog On the edge of ordinary ›
About Japan
Despite all the beauty and efficiency there are wide barriers between the Japanese people and the Living God. This is a land that needs to know the Creator God and Saviour Jesus Christ.
Today churches in Japan remain extremely small, with an average attendance of 20 to 30 people on Sunday and most of those are women. Christians are a tiny minority in a society where consensus is important and because few families come to faith, individuals feel exposed.
Cultural pressures to conform can come in the form of an obligation to participate in religious festivals and rituals, ancestral worship and in helping to take care of the local shrine.
The small percentage of Christians is not able to make a real impact on the centres of power (industrial, commercial and political). These, and Japan's intense work ethos squeezes out Christianity.
A breakthrough, constantly anticipated and prayed for, is yet to come. The prayer for Japan is to see 10% of the population following Christ and so that society itself will be transformed by the Gospel.
Links
OMF Overseas Missionary Fellowship › (Overseas Missionary Fellowship)
Christian Academy in Japan › (where David is teaching)
Grace Christian Church › (Our home church)
Contact Details
1-19-10 Shinkawa-cho
Higashi Kurume Shi,
Tokyo, Japan 203-0013
Ph +81 42 479 4493
Email: themarshalls@omfmail.com